Learning
Apart from visiting exhibitions, there are many other activities for you in the gallery. Learning helps us collectively experience art and understand the world around us. Choose what you would like to do in the gallery. We have the ideal programme for you. Hashtags attached to each event help you find the activity that suits you best.
Are you a teacher who wants to enrich the class by visiting a gallery? Do you want to educate yourself and learn about the ideas and approaches of your local and international colleagues? Are you a student keen to share with your teacher the idea of learning ina gallery rather than a classroom? Our programme for schools can answer all.
Do not hesitate to reach out to us at learning@kunsthallepraha.org.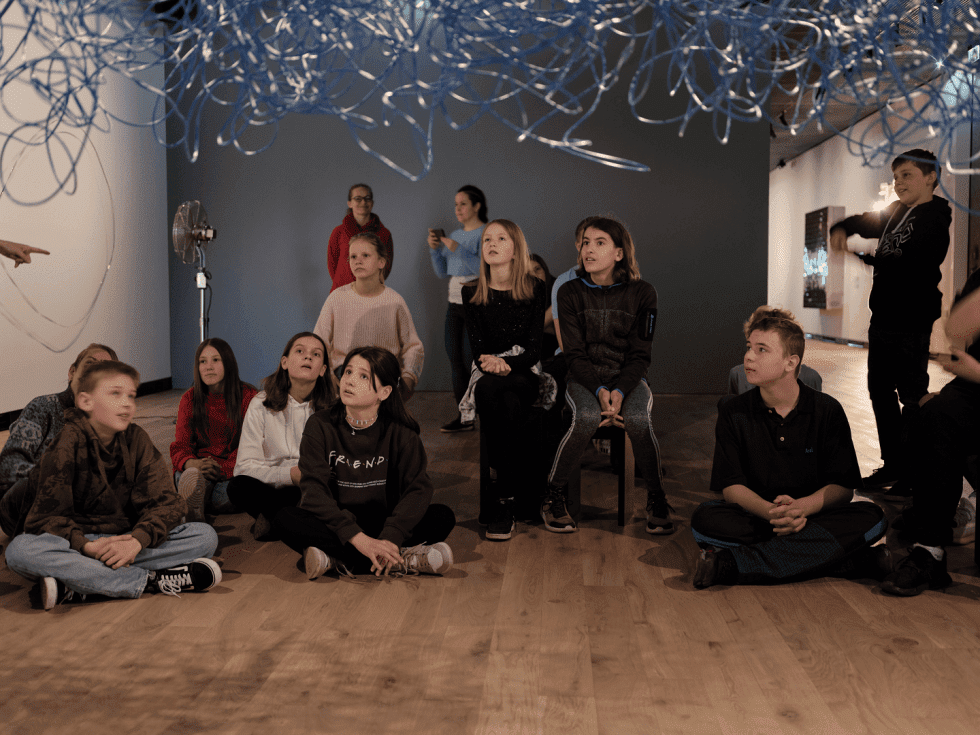 Contemporary art can be complex, but we aim to share it with you in a comprehensive and entertaining way. You can walk through an exhibition with a curator or an artist who can uncover the behind-the-scenes of exhibitions and/or artworks. Screenings and walks can help introduce complex topics in a clear and engaging manner.
The joy of creative work is unrivalled, which is why we offer several activities which allow you to create various activities and themes inspired by our exhibition programme. Workshops represent an important space in which we can explore contemporary art based on individual needs and understand things during the creative process.
You can experience our programme also online. Do you live far away from Kunsthalle Praha or you wish to engage with our activities before and/or after your gallery visit? We prepare regular online calls with the special Patrons of Art or you can discover the exhibitions digitally with our guide.
Explore the exhibition Kinetismus: 100 Years of Electricity in Art through a Digital Guide!
Explore the key artworks of our current exhibition, whether you are directly in the Kunsthalle or anywhere else:
We believe that dialogue and collaboration lie at the core of learning. You have the opportunity to meet various interesting guest speakers—artists, curators, and experts who will introduce you to various topics and be available to answer your questions. Mutual communication can help uncover new paths and approaches to art.