Lunchmeat Studio: The Grief of Misfit Cathedrals  
12. October 2023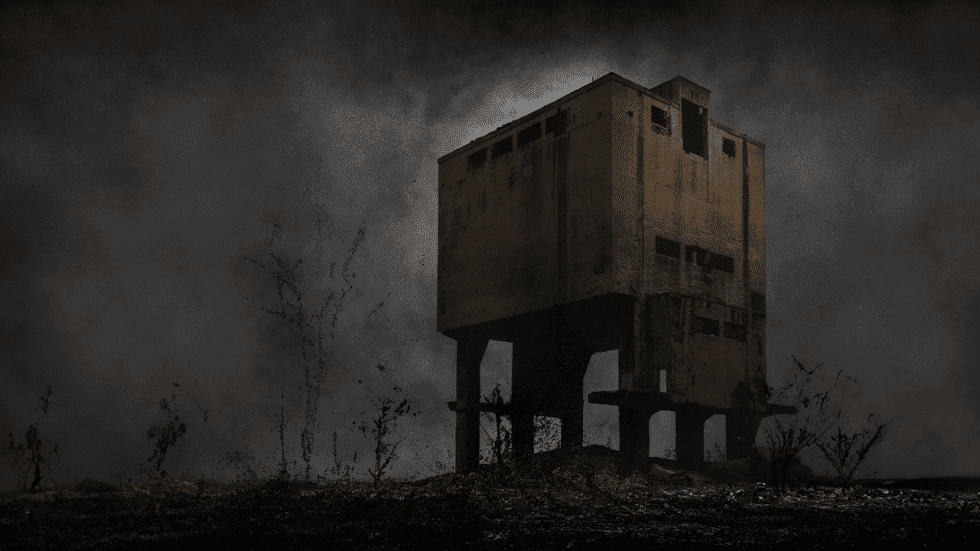 Lunchmeat Studio:
The Grief of Misfit Cathedrals  
12/10 2023—14/1 2024
Gallery 3

Curator: Iva Polanecká (Kunsthalle Praha, Aw! Lab)
This exhibition will first open as part of Signal Festival, which will take place from 12 to 15 October 2023.
The Grief of Misfit Cathedrals is an audiovisual artwork exploring the phenomenon of abandoned industrial objects, which, having lost their original function, become solitary presences in urban space.
Their monumental concrete skeletons dominate the surrounding landscape, resembling ancient sacral architecture in their scale and proportions. Meanwhile, their emptiness mercilessly reflects the flow of time and the impact of varied socio-economic forces and influences, inscribed into their present state.
The melancholic atmosphere evoked by the film's immersive format and augmented by its spatialized multi-channel sound design draws inspiration from the Japanese concept of "mono no aware", which centres on coming to terms with transience and finding beauty in death and impermanence. A similar emotional charge permeates the art of European romanticism, with scenes often set against a backdrop of classical and medieval ruins.
Lunchmeat Studio's linear, experimental project is based on precise 3D scans of places that exist in separation from the regular rhythms of urban life. Their raw yet fragile beauty thus becomes preserved despite the surrounding entropy.
The resulting audiovisual installation poses questions related to themes such as the memory of place, the aesthetic value of decay, and the current transformations of the cultural landscape.
An immersive audiovisual environment in Gallery 3, dedicated to experimental projects and digital art. Space, time, light, and sound represent the fundamental elements shaping the laboratory's space. Through the Aw! Lab programme, Kunsthalle Praha seeks to showcase diverse types of visual and sonic structures and simultaneously explore interdisciplinary approaches to technology via artistic interventions addressing contemporary issues.
Kunsthalle Praha & Signal Festival are continuing to build on their successful first collaboration in 2022. This inaugural Aw! Lab project took the form of an exhibition of young digital artists, titled Invisible Forces.

A creative studio and independent artist collective based in Prague. Their primary interest is digital media, focusing on audiovisual, interactive, and immersive installations. Its flagship project is Lunchmeat Festival, which launched in 2010. The festival focuses on alternative, progressive electronic music, and new digital media while offering a platform for experimentation, innovation, and collaboration in contemporary audiovisual culture.

Signal Festival is entering its second decade of existence. The festival of digital and creative culture will explore new artistic ecosystems from the fields of light design, visual and digital art, artificial intelligence, and conceptual art. It melds together Prague's historic architecture with cutting-edge technologies and contemporary social issues. Signal Festival will take place from 12 to 15 October 2023. Find out more at signalfestival.com.