Why wish for daring things: An interview with Ivana Goossen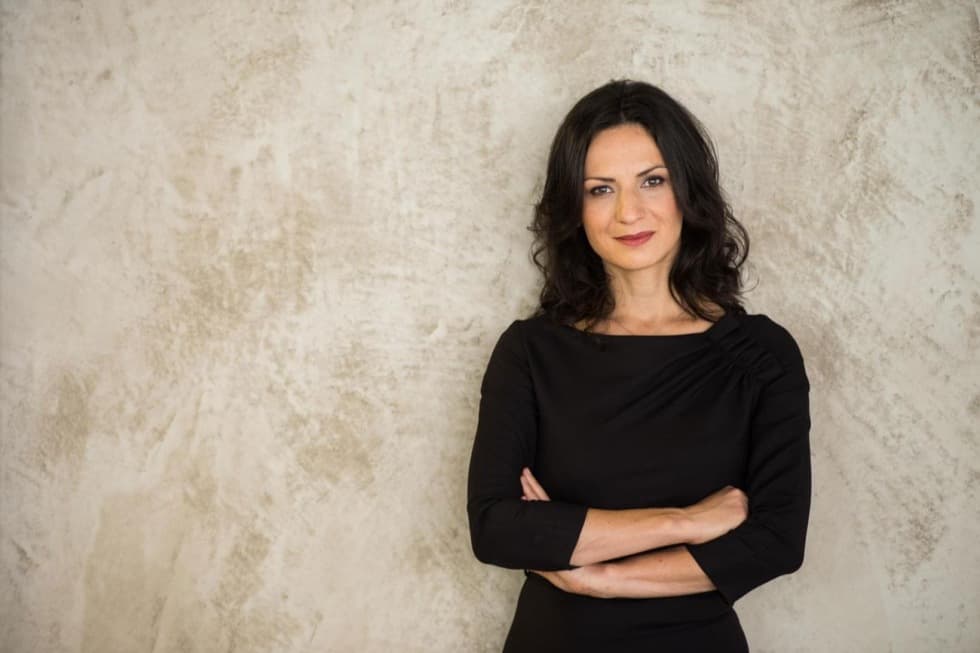 The director of Kunsthalle Praha, Ivana Goossen, talks about her time at the University of Pittsburgh, about her international women's team and about why culture can be supported by private subjects.
Ivana, you are the director of Kunsthalle Praha, but you do not originally come from the cultural sphere. What path led you here?
As far as my career is concerned, this is my first role in culture, but that does not mean I do not come from a cultural background. I grew up in the family of a professor of economics and my mother was a harpist. I spent my childhood at the opera in Plovdiv. My mom's father was an artist and her sister was an animator. When I was young, I toyed with the idea of becoming an artist, although my dad wanted me to be an economist. Back then I said to him "Not a chance!"
As sometimes happens, one ends up doing the thing one was dead set against, and I graduated in international economic relations. I began working at an international company, got to Prague, and then I founded my own management consulting and human resources firm. While doing this, I received my Executive MBA from the University of Pittsburgh, which already then had their European office in Prague.
It's not that common for someone to leave the work environment to go back to school.
I often wondered what it would be like to experience my studies with a different perspective. The University in Sofia was very theoretical, while the teaching methods at Anglo Saxon universities are far more interactive and practical. What's more, studying while working was amazing in that I was able to immediately apply in practice my discoveries from each weekend spent at school. Then came the offer to lead the European branch of the University of Pittsburgh's Global EMBA Program. I spent five years doing that, with professors from America flying in to Prague. The students were managers from all over Europe, but also from Latin America and the USA.
And then you received the offer from Kunsthalle...
I was successful in the selection process in 2015 and was hired as the first member of the team shortly after The Pudil Family Foundation purchased the building at Klárov and began working on the preparations for opening Kunsthalle Praha.
You hold the position of director of an institution that is just emerging. What is the essence of that position?
For me it's getting things done while staying focused on the big picture and believing in the vision of the institution we're building. A friendly space with an innovative and international program.
How is that vision being turned into a reality?
It's a long journey full of unknowns, so one must plan a lot and be prepared to change a lot. The key is to know the general direction of this journey and to establish some key milestones. Our milestones follow the steps of the reconstruction process and set the timing of everything else - developing the organizational structure, preparing the exhibition projects, establishing the auxiliary operations such as our café, the restaurant and the museum shop, and all that is needed so that we can welcome our first visitors in the near future. But the most essential thing on the road is to share it with the right people.
The Kunsthalle team is quite international, and the majority are women. Was that intentional?
We have demanding selection procedures for all positions and we are always looking for the most suitable person for the given position. So, there was no intention. On the other hand, since we are trying to build an open place with international reach, it is understandable that our team turned out to be quite international. And these are all people who were already living in Prague, no one had to move here for us.
Work in the cultural sphere is not possible without being in contact with artists. In your opinion, are artists different in some way from people in other professions?
There are various stereotypes about artists, but in reality working with each of them is different – sometimes clear and structured, sometimes complicated ... but isn't it the same with other professions? What artists have in common is rather their deep inner motivation to do what they do and the special sensitivity they can express in an interesting way. It's contagious – I remember how it smelled in my grandfather's studio, how much he liked to devote himself to his work and my urge to try painting, too.
Kunsthalle is one of the first projects of its kind here. What do you think makes the Czech Republic distinctive?
Building a private nonprofit institution here is completely different than, for example, in the US. There, it is the norm; the functioning of such institutions is a given and has been tested and proven over the years. Here, we are among the pioneers in this field. This brings us many amazing opportunities to do things differently. But as is the case with new things, we also encounter a greater degree of distrust at the beginning. Some expect the state to support culture, and cannot imagine that a private institution would do so without a hidden agenda to profit from it. It also seems to me that it is not advisable to state that you have daring goals here. But this is very important - if you cannot imagine the desired result, it is unlikely that you will achieve it.
How do you think the arrival of Kunsthalle Praha will influence the Prague cultural scene?
That's difficult to say. My wish is for all cultural institutions to focus on pursuing the missions they have set for themselves, and to be able to productively collaborate on that basis. I believe that the more varied the cultural scene is, the more interesting and free it will become.
Interview led by Daniel Knepr.
Photo © Jan Rasch