A space for people & art: An interview with architect Jan Schindler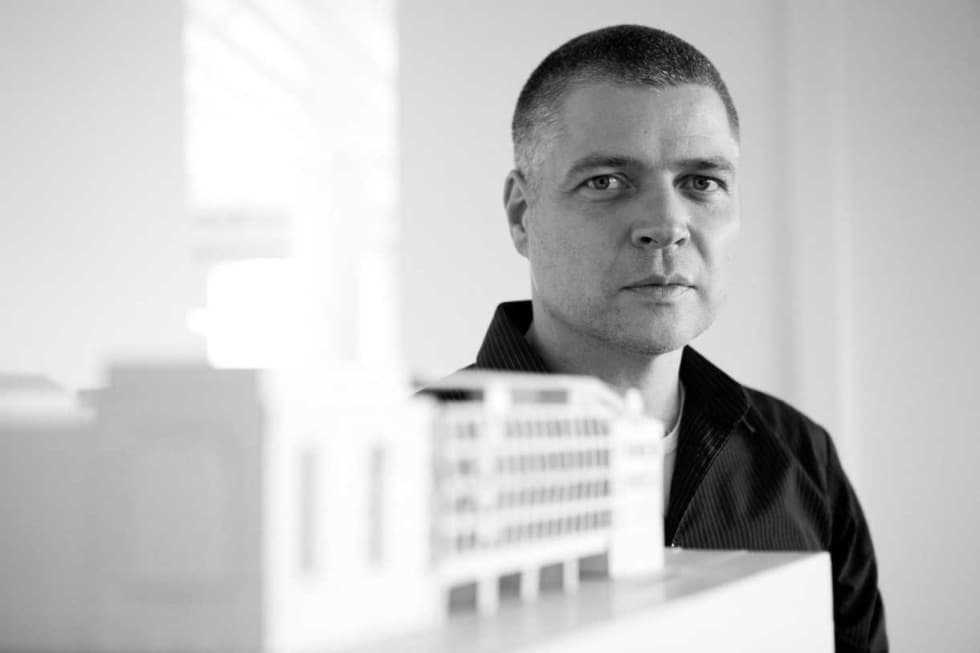 He is in charge of the reconstruction of the former Zenger Transformer Substation, the future site of Kunsthalle Praha located in the historical centre of Prague. Architect Jan Schindler says opening up the building for people and for art was his main goal. In a conversation with the new cultural institution's Director, Ivana Goossen, he speaks about the relationship between art and architecture, the importance of empathy and Prague's unique social and architectural development in the 1920s.
You were born in 1968 in West Berlin, an 'Island of the West' in East Germany. Coincidentally, at the same time, the Prague Spring unfolded in Czechoslovakia with the ensuing invasion of Soviet-led troops and tanks. The period of repressive 'normalization' began, lasting for almost twenty years. Did this affect you in any way?
My mother comes from Berlin and my father is Czech. I was born in February 1968, which was the beautiful time of the 'Prague Spring'. People were hopeful and inspired – amazing movies were made, great art was created, it felt like rising again from the ashes. Just after my birth my parents decided to move back to Czechoslovakia because it was a free and liberal country again. Unfortunately, it lasted only for a short period… At the end of summer 1968 came the invasion and then everything went downhill really quickly. During the invasion my father was very actively protesting, so the communists took away his passport and he was prohibited to exhibit his paintings. From then it was clear that the family had to stay and fully 'enjoy' the hospitality of the normalization era.
Were you in touch with your German family?
Yes, my mum had a passport from West Germany and luckily, she arranged the same for us, the children. We could leave Czechoslovakia at any time, but we needed a visa to return.
Arriving in West Berlin, a centre of the liberal world, was always a shock. Even just the smell. When we crossed the border, or entered into a shop, this was the first experience, the nice smell… and then the abundance of opportunities and choices…
When visiting my grandma as a child we regularly went to see the Neue Staatsgalerie by Mies van der Rohe and opposite it the Berliner Philharmonie by Hans Scharoun. Both buildings from the '60s seemed to me then like they had just landed from Mars. What you see or experience as a child often becomes the basis you build on, the departure point for your later work.
How would you describe your typical approach to designing a new building?
I would hope respectful and open-minded. The design process is usually a long journey, and of course we analyse the location, the context, the assignment as such; we look for examples and so on. But personally, I always begin with visualizing the project as something ready, complete, I try to see the whole final picture. I discuss it with my colleagues to make sure we have a shared understanding about what we are creating and what feel it has – the materiality, spatial qualities and atmospheres. It is always a particular building in a particular location, which has a particular effect on both its surroundings and on what is happening inside.
As architects we create prototypes. Even if it is our fifth office building, we always begin completely anew, from zero. There is no such thing as a complete routine. Perhaps only partly, but this is really not a consideration for me.
In your view, how close does architecture come to an art form?
If a film director is an artist or a conductor is considered an artist, then an architect must be an artist, too. Architecture has a lot to do with art and it even integrates many kinds of art.
Figuratively speaking though, as an architect you must become less of an introverted visual artist and more of a, say, film director. You need to convince the team about your ideas and you also need to convince the investor, the various regulatory authorities, things become really complex. We have to become Buddhists when applying for permits, psychotherapists when speaking to clients, doctors when healing broken-down buildings, or cleaners when rectifying messed-up planning. In short, the architect should be a good artist, a visionary, but also a person with empathy who can connect the right people, collaborate, and find common ground.
And what is your personal relationship to the visual arts?
I grew up with art – my mother is an art historian and my father is an artist, so we basically lived with art. Because my father was not allowed to exhibit, he made his living as a scenographer and costume designer. We went to the theatre a lot and we went to see exhibitions all the time.
Whenever we managed to travel abroad, we spent the entire holiday visiting churches and art galleries. Paintings and art in general are a fascinating thing for an architect, the way they employ the imagination.
Would you identify any trend-setters in architecture today?
I don't think there is really any 'fashion' in architecture. Big changes usually come down to a generation of architects. In recent years examples of this could be found in Switzerland, because the society is rich and educated and it is able to invest in quality architecture, materials and the environment. They created a number of buildings, including smaller ones, which are admired by many around the world. There was a similar period when really interesting buildings were created in Denmark. Or in Spain, I think it was associated with joining the EU – the country became wealthier and numerous interesting works of architecture were created.
I don't think the Czech Republic is, or will soon be, a trend-setter like this. Prague was always 100 years behind. Perhaps exactly for this reason it is so interesting. It started building baroque houses when people had moved on to new styles elsewhere. On the other hand, the buildings in Prague had the advantage of being planned with the knowledge of the best that was created in the given style. I think we were always behind, except perhaps in the 1920s.
What was different in the 1920s?
After WWI and the break-up of the monarchy, a substantial part of the modern industry remained here and this gave rise to a new start, a new culture. These were fascinating times – there was Masaryk and many other thought leaders, and truly advanced architecture. If you looked at pictures from the '20s, cars would look 100 years older than the buildings. Today it is the exact opposite. In the '20s, there was leading architecture here.
What would need to happen so that the 2020s bring a similar kind of innovation to the 1920s in Prague?
Society would need to change. It is interesting that here in Prague we have the works of renowned architects like Frank Gehry, but these megastars have never created something here that would attract admirers from all over the world. I suspect that we suffocate them with all the regulations, permits, heritage requirements and so on. Jean Nouvel has a number of beautiful buildings around the world, but his project in Prague, Zlatý Anděl, is not amongst them. It is nice, but not the icon that he likely imagined.
And how would our society need to change?
Our society needs a vision. A vision that goes beyond just conserving things as they were, the idea that we want to leave behind our own little layer of something new in the city. Charles the 4th had a vision, that is why we have Charles Bridge and the whole area around it. Of course, we have to be careful how we do things, but without a vision nothing ever gets done and I think that there is no vision for Prague right now.
How did you approach the conversion of the former Zenger Transformer Substation into a kunsthalle?
Our main goal was simply to open the building to people, let them inside, where everything used to be dead and closed, locked, empty. Let the building breathe again. Open up the space for people and for art.
The Kunsthalle Praha building is a cultural monument in a UNESCO-protected area, so there were numerous complexities. It used to be filled entirely with technology and transformers. In contrast to the neo-classicist facades the interior was very industrial, disconnected from the public and not corresponding with the windows. The concrete interior of the building had to be replaced, and we replaced it with a similar concrete structure, but now the levels inside communicate with the façade and the world outside. I think that Vilém Kvasnička, the original architect of the building, would have liked this idea.
The façade is a 'raumplan' and the spaces behind it should logically be the same. And the raumplan works very well for a gallery space. It has these cascading levels and view-troughs for people and energy to move, upwards and downwards, the space changing all the time.
Given that this would be a public building, we designed an entrance ramp as a new way of entering the building, leading visitors up into an elevated entrance hall, so that people could come into this beautiful space with a magnificent view. Together with our raumplan concept, this was a defining feature from the very beginning. So was the level three gallery space we added over a part of the building's roof.
​​​​​The interview was led by Ivana Goossen (Director, Kunsthalle Praha)
​​​​The full interview is a part of Kunsthalle Conversations, a book we will release in 2021. The publication consists of interviews with ten inspiring personalities who significantly contributed to the development of the vision of Kunsthalle Praha and to our programme.
Architect and the co-founder of Schindler Seko Architects. Schindler is in charge of the reconstruction of the former Zenger Transformer Substation, the future site of Kunsthalle Praha located in the historical centre of Prague. He has worked on conceptual design, planning permission, and more in the course of creating a contemporary art space that also preserves the building's cultural heritage. He is a member of numerous German and Czech architectural associations, and since 2011 has been leader of the architectural design studio at ARCHIP – Architectural Institute in Prague.