Call for performers: Elmgreen & Dragset's exhibition READ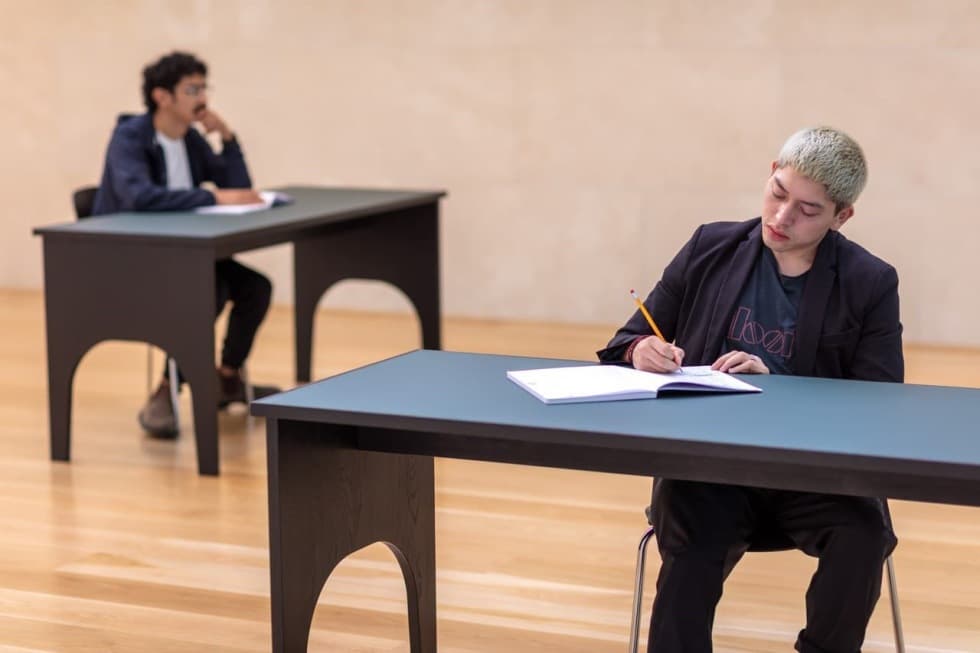 Kunsthalle Praha is looking for 5 performers for a durational performative installation titled Prague Diaries, to be held at Kunsthalle Praha throughout the run of the exhibition READ curated by Elmgreen & Dragset (November 16, 2023 – April 22, 2024). During Wednesdays and weekends, the audience will encounter the performers seated at a large library desk in the exhibition space, keeping their diaries. The audience is free to walk around, read over the diarist's shoulder, and flip through the notebooks when the performers are on a break.
Originally presented at Perrotin Gallery in Paris in 2003 as Paris Diaries, the Diaries series by Elmgreen & Dragset has been subsequently presented in Istanbul (2013), Hong Kong (2015) and Dallas (2019). At Kunsthalle Praha, the artists will stage its fifth iteration.
The series as a work of art functions threefold as personal or private written recordings, performance documents, and portraits of the city in which they were made. The diarists' musings cultivated throughout the duration of the Prague performance are expected to become simultaneously distinct from and integral to the broader Diaries network of Paris, Istanbul, Hong Kong and Dallas.
The series further reveals how the activity of recording private thoughts is commonly gendered, as men and boys keep journals while women and girls keep diaries. By casting male or male-identifying diarists, the artists turn the tables on gendered language surrounding the activity of recording one's private thoughts or daily happenings.
5 young men or people that identify as men, aged 20 to 30, with different backgrounds / diverse identities;
language diversity; the diaries can be kept in any language, not strictly Czech or English (i.e., different languages are appreciated);
someone with genuine interest in keeping a diary (i.e., having a history of diary writing is a plus);
someone who can be available during the entire exhibition period (November 16, 2023 – April 22, 2024) according to a pre-agreed schedule; every performer must be present every single day during the opening week (November 14–19); afterwards at least 3-4 performers must be present every weekend and on Wednesdays
What happens with the diaries:
blank diaries for the performance will be supplied by the artists;
the diaries will exist as individual works of art;
the performers have a right to get a copy of their diaries afterwards, but the hard copies will belong to the artists;
the performers retain the right to use their own writing as they wish, but the artists will keep the same rights;
translations may be made, and reproductions of the written pages and excerpts or full texts from the diaries might be used in future publications, but there is no current plan, and no guarantee that this will happen
Your application in English should include:
a short bio including your age and occupation (max. 1 standard page)
a photo of yourself
a short cover letter (what interests you in this project)
Elmgreen & Dragset collaborate as an artist duo since 1995, and live and work in Berlin since 1997. In their artistic practice they pursue questions of identity and belonging, and through working methods that often challenge conventional modes of exhibition making, the artist duo aims to re-contextualize or alter the conditions for how we, as an audience, perceive sculptural objects. The artists have held numerous solo exhibitions in art institutions worldwide.
Their work has been included in biennials such as the Bangkok (2018), Istanbul (2013, 2011, 2001), Gwangju (2006, 2002) and the Venice Biennale (2009, 2003). In 2017 the artists curated the Istanbul Biennial. Works by the artists are included in numerous collections, including the Museum of Contemporary Art, Chicago; Louisiana Museum of Modern Art, Humlebæk; Astrup Fearnley Museum, Oslo; Städel Museum, Frankfurt am Main; Pinakothek der Moderne, Munich; Hamburger Bahnhof—Museum für Gegenwart, Berlin; Museum für Moderne Kunst, Frankfurt am Main; Tel Aviv Museum of Art, Tel Aviv; and the Benesse Art Site, Naoshima, among many others.
In 2002, Elmgreen & Dragset were awarded the Preis der Nationalgalerie für Junge Kunst and the artist duo received the B.Z.-Kulturpreis in January 2020.