Performance by Alex Mirutziu: INTERVENTION IS ENOUGH EVIDENCE. FINALLY.
26. July 2023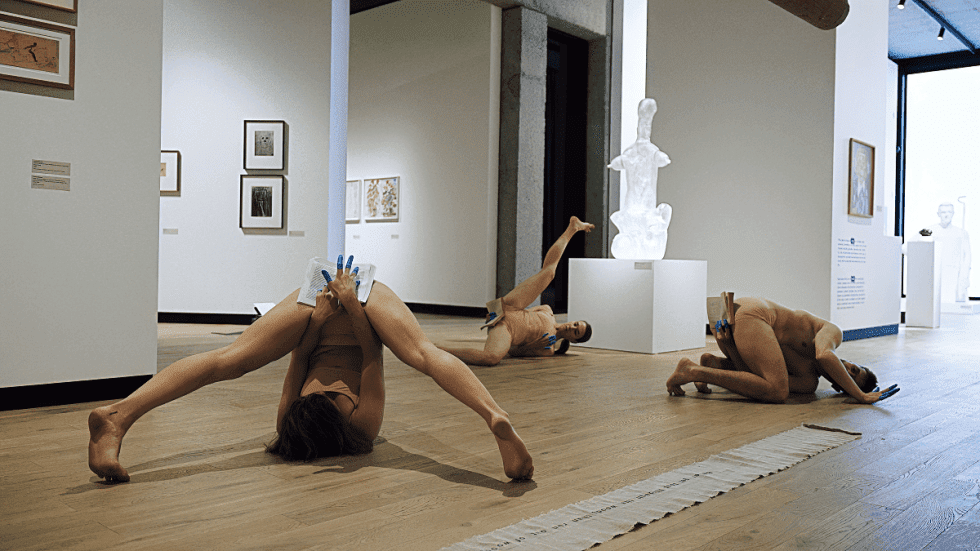 Alex Mirutziu was invited to Prague to create a performance piece that would reflect on the Ovidiu Șandor Collection and contextualise it in a new way, as a part of the 𝗟𝗢𝗦𝗧 𝗜𝗡 𝗧𝗛𝗘 𝗠𝗢𝗠𝗘𝗡𝗧 𝗧𝗛𝗔𝗧 𝗙𝗢𝗟𝗟𝗢𝗪𝗦 exhibition. Mirutziu describes his medium as 'technologies of ephemeral reciprocity', which creates new scenarios for exchange and interaction between those involved. In his own words, he describes the intricate details of his new, site-specific piece below:
"Accepting the limitations of our ability to establish facts, this performance investigates the possibilities for acting on them subjectively, with intervention serving as the primary operation. The performers set about inventing strategic practices to retain or improve their uniqueness, switching between voice recordings, words, and frozen images of past actions, catering to the 'instinct for business' in an attempt to align aims with outcomes. As the performers interact, or refuse to do so, a unique temporality is created by withholding beliefs and real emotions. A maze of introspections frequently collides with a terrifying incapacity to de-intervene, de-act, or de-realize, jeopardizing the integrity of their own identities."
Performance in the exhibition space happens on:
PREMIÉRA / PREMIERE: 10/6 2023 17.00 / 5pm
Repríza / Reprise I: 22/6 2023 17.00 / 5pm
Repríza / Reprise II: 26/7 2023 18.00 / 6pm
Repríza / Reprise III: 24/8 2023 15.00 / 3pm
No booking required, admission to the performance is part of your exhibition ticket.