Artist or scientist? A conversation with Hicham Berrada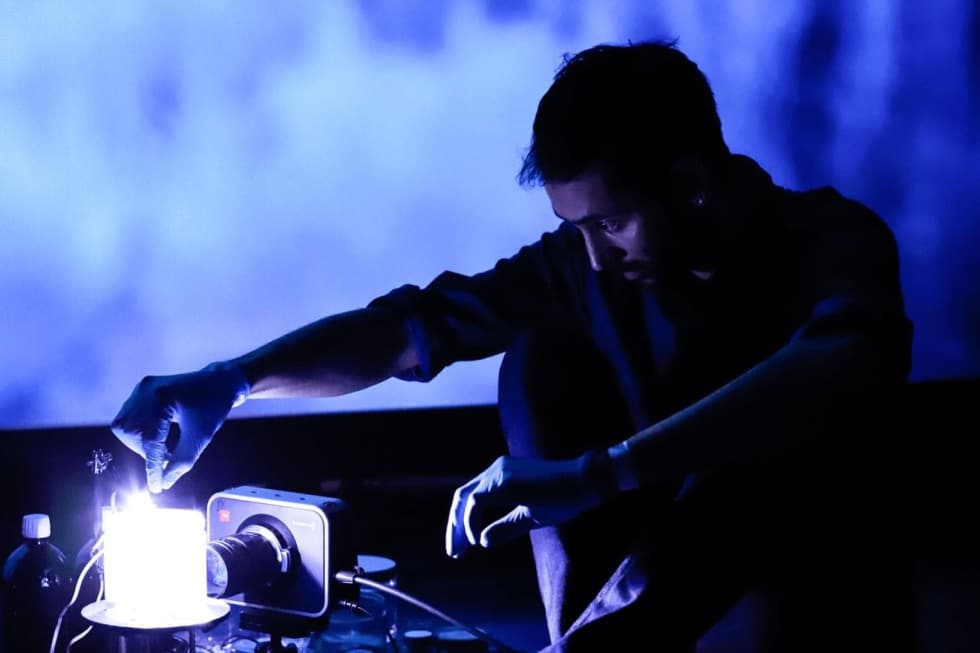 Hicham Berrada is among this year's nominees for the prestigious Prix Marcel Duchamp. The French-Moroccan artist, who we invited in 2019 to present his work Présage during Living Kunsthalle, had an interview with our chief curator, Christelle Havranek. He talked about his parents, his love for his mushroom atlas, continuity within the history of art and about the reasons for becoming an artist rather than a scientist.
How did it all begin? What was your first encounter with creativity? Was there an experience that sparked your interest in art?
I think my interest in art is mainly linked to the pleasure it brings me. I don't remember a triggering moment, but I have several vivid memories. When I was about ten years old, someone came to our school to show us different scientific procedures. I have a precise memory of a multi-coloured chromatic circle that made a uniform pale grey appear when it turned.
I was also lucky that one of my Moroccan uncles studied at Beaux-arts in Toulouse, which was quite atypical in his sphere and at that time in Morocco. He's my favourite uncle, and I really enjoyed spending time with him. When I was in nursery school, he published a drawing I made in a magazine he was working with at the time. My parents hung some of the paintings I made in elementary school on the living room walls. I remember spending a lot of time doing them; I felt encouraged.
Your work is situated somewhere between art and science. Experimenting with physical and chemical phenomena seems to be as important to you as making art. Why did you choose to set out professionally on an artistic path rather than a scientific one?
My mother was a biology professor, my father a pharmacist. In the process of making herbaria, we spent a lot of time collecting ferns in the Pyrenees and trying to preserve the colour of poppies when they dried. At home, we had a mushroom atlas that I've leafed through thousands of times. My parents are both passionate about morphogenesis, about the forms nature can create.
Still, I never thought of embarking on a scientific path; I wanted to take up an artistic career. When I started at Beaux-Arts in Paris, in the studio of Jean-Luc Vilmouth, I was primarily passionate about digital photography. I remember being lost for a long time, seeing a lot of artists from the Maghreb working on political subjects connected with the situation in their countries, or the theme of uprootedness. I have dual nationality, French-Moroccan, but I didn't see myself making it the central issue in my work. At Beaux-Arts, many people of French origin often made references to modern art in their work, particularly to its spatial aspect – a culture I wasn't familiar with at all at the time. I wasn't completely in it, either. I thought about what I had that was specific, and that's how I started working on physical and biological phenomena and on morphogenesis. From photography I naturally moved more and more to video, which is more fitting when speaking of movement.
Présage, which you exhibited in Prague on the occasion of Living Kunsthalle, is a work that you've been developing for several years. It is presented through different media: performance, video installation and photography. Can you explain how the project has evolved over time?
Présage is a project I started a little over a decade ago and whose main principle is simply to produce different chemical reactions in a jar. The reactions lead to the appearance of a landscape with variable time frames, from a few minutes to several months.
It's a project that was first born in a performance before an audience. I have my jar and a camera that projects what's happening in real-time video. Then, I produce different chemical reactions, composing like a painter. I try hard to relate the empty jar to the blank canvas, and the knowledge a painter might have of painting to my own knowledge of the physical, chemical world, which I can control only by adjusting parameters.
Like the viscosity that allows me to engage in slower movements, certain reactions create heat, others cold. I search for products that will react with each other with the idea of always finding four or five different chemical reactions that work well together so as to create something that looks like an ecosystem, even though we're in something completely mineral, inanimate.
We're in extreme environments – these are chemicals we're using. Nothing living could probably ever emerge from them, and yet the brain projects trees, rocks, rivers – it tries to cling to something resembling a landscape based on the composition.
Could you say that your experiments are part of a tradition of landscape representation, but with new processes, using the technologies of the present?
For me, it's very important to exist in a continuity within the history of art. I tend to think that what I do isn't new. Almost nothing is new. In many ways, I follow traditions. Even the materials I use, for example, were used for a long time by Renaissance painters, particularly when they made their paints. Today they're considered chemicals. People don't use them anymore, but there are paintings in the Louvre created with those same sulphates, or nitrates.
One last question, which isn't directly related to your work, but the contexts you present it in. What's your definition of the ideal location for an exhibition?
Places don't matter much to me; it's mostly the whole ensemble of people I work with, in my view, who make an exhibition successful or not, whether it be the director, the curators, the financial backers, the people who do the installation work… It's a little like the production of a film. An ideal exhibition space would be one where artists and crew manage to communicate well and work in a certain harmony.
Interview led by Christelle Havranek, Chief Curator of Kunsthalle Praha.
The full interview is a part of Kunsthalle Conversations, a book we will release in 2021. The publication consists of interviews with ten inspiring personalities who significantly contributed to the development of the vision of Kunsthalle Praha and to our programme.
Hicham Berrada (MA/FR) is an artist working on the borders between art and science, which his work frequently brings together. His large-scale, 'living' installations recall biological and chemical displays. His work has been presented at both solo and group exhibitions including the Riga International Biennal of Contemporary Art (2020), Centre Pompidou, Paris (2019), Frankfurter Kunstverein, Frankfurt am Main (2018), Palais de Tokyo, Paris (2017) and Moderna Museet, Stockholm (2016). Hicham Berrada was invited to present his performance Présage on the occasion of Living Kunsthalle in 2019 as part of Kunsthalle Praha's pre-opening programme.