Adéla Součková: Exit The Loop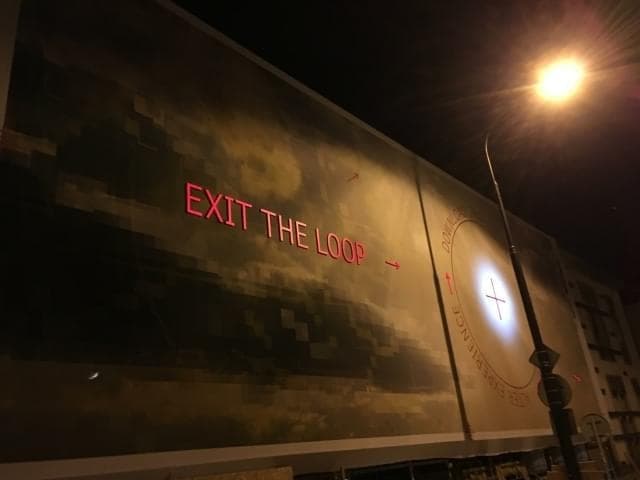 Invited to create a site-specific installation for the facade of Kunsthalle Praha, Adéla Součková presents Exit the Loop. It involves a monumental screen depicting a sun shining through a cloudy sky, with words and symbols related to the notions of evolution and the life cycle. The celestial image as metaphor for the infinite may recall classical paintings, yet the artist's treatment of the subject, and her choice of medium, are firmly anchored in the present day. It is a photograph of the sky taken from her balcony that Adéla Součková has reproduced in such large scale in the public space. Enlarged to the point of being a gigantic pixelated screen, the image has lost its intimate nature. Still, it is a very personal experience that the artist shares: "I explore how computer language enters into common speech. My energy is in "low battery mode" and my experiences change with pressing the ALT button (alter experience). In my work, I download the world of codes into the world of thought and explore the intertwining of the different languages we use every day. For example, exit → enter → alter → shift ← backspace is a series of words that reminds me of magical formulas and at the same time can describe a life story. The last backspace has its limits, as time cannot be turned back. It is the contact and the contrast of computer speech with physicality that I'm elaborating in the Exit the Loop."
Adéla Součková's artistic work is versatile, combining intuitive and intellectual knowledge, cultural reminiscences and contemporary themes. Exploring the realms of the imagination, memory and myth, Adéla prints figures, draws signs, and etches symbols that are timeless. Her pictorial work shows recurring motifs involving nature, the body and the elements. Creating universes where the personal and the collective mingle, Adéla uses a wide range of materials: paper, cloth, canvas, wall, glass, video. Her most recent work includes a performative dimension, whether we are talking about frescos created "in situ", or songs and processions in the public space. Through poetic expression, performance and the pictorial act, Adéla Součková interacts with the viewer, whom she considers an essential part of her work.
Adéla's project on the facade is a visual continuation of her text, which she had set to music. The text of the poem will also be published in book form. The selected part of the text represents the planet Earth as it speaks to the reader and describes how it changes in his eyes.
exit the loop→
For you I became a land
a land to be named
For you I became a sphere
a sphere to be known and crossed
For you I became a map
a map to be read
For you I became a thought
a thought to be shaped
For you I became a net
connecting all with everything
everything to be named and chained
For you I became a cage
a cage of gold
to protect you from the unknown
For you I became a thought
an abstracted me
to be reflected rather than lived
An excerpt from Adéla Součková's poem
Curator: Christelle Havranek
Project manager, accompanying programme: Kristýna Kottová
Special thanks to: Studio OneRoi, Peri, spol. s r.o.
Production team: Studio OneRoi- Stathis Zervas, Lída Vopršalová
Realization: Ondřej Kopřiva, Marek Poč, Dimitri Nikitin, Martin Bidmon, Arťom Zavorochin, Čeněk Janečka
Print: Astron Print- Petr Svoboda, Irena Gotthardová, Alexandr Vlčev, Monika Bečvářová, Marián Novák, Tomáš Zelenka
Lighting: Sky-Walker Reklama- Jan Běhounek, Oleg Donos, Radim Zgarba, Alexandru Moraru, Petra Dolejšková, Jiří Kavík
Construction: Peri- Lukáš Tichý, Jan Holý, Daniel Schwerhart, Petr Folbrecht, Michal Kratochvíl, Jan Střiž
Other: Truss Aluminium Factory- Jana Zahradová; Hartman- Martin Hartman, Aleš Hartman; Eko-Cointerner Service- Kateřina Jelenová, Michaela Dolejší; Best- Martina Prajerová, Radka Plíhalová, Elese+Ganter CZ- Jan Šebesta; STRABAG; PM6
Kunsthalle Praha presents a series of site-specific projects to be temporarily displayed on its facade, the only part of the building accessible to the public during the renovation.
Under the title Facade Project, this programme of commissioned outdoor artwork refers to the history of the building. The Zenger transformer substation's facade was originally intended to exhibit a light-kinetic sculpture series by the avant-garde sculptor Zdeněk Pešánek. Sadly, this project, entitled One Hundred Years of Electricity, was never executed.
Paying tribute to Zdeněk Pešánek's vision, Facade Project works as an experimental platform allowing artists to create installations using various media at the intersection of art and technology. Each step of the building's transformation is accompanied by a specific artwork in dialogue with the architecture of the Zenger transformer substation and the surrounding neighbourhood. All the interventions are research-based, questioning the multi-layered context – geographical, political, social – of a place situated in the very heart of Prague.
Aside from stimulating the curiosity of the public, Facade Project functions as a laboratory that hints at Kunsthalle Praha's indoor program to be presented from 2021.