Lost in the Moment That Follows - Extended Captions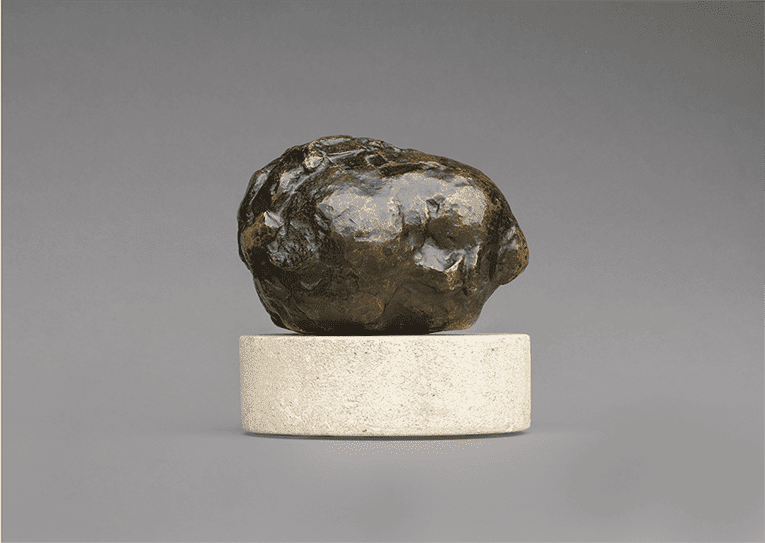 Constantin Brâncuși
L'enfant endormi / The Sleeping Child
1906–1907
bronze
10 × 15 × 13 cm
L'Enfant endormi is a work from a series of explorations Brâncuși began in 1906 on the subject of the head of a sleeping child, in particular that of his goddaughter, Alice Poiana. In this bronze plaster cast, Brâncuși captures the traces and imperfections of his carving process, from the deep chisel marks at the side of the head to the broken curl at the top, in contrast with the smoothed cheeks and forehead. In this tender and charming image of a sleeping girl, the artist investigates the material nature of sculpture, which later led him to more abstract, eponymous sculptures in marble and bronze, which also represented heads. Brâncuși created this sculpture at a crucial moment when he moved away from the academic style towards abstraction, in search of what he called 'the essence of things'.
Andra Ursuța
Yoga Don't Help
2019
lead crystal
135 × 54 × 63 cm
Drawing ideas from memory, nostalgia, art history and popular culture, Andra Ursuţa combines traditional sculptural processes and new technologies to transform everyday objects and materials into viscerally evocative artworks. Yoga Don't Help extends the artist's explorations of twisted anthropomorphic, zoomorphic and seemingly otherworldly forms, but also serves as a reminder that no matter how many techniques and lifestyles we use to maintain our well-being, decay is part of our existence and our bodies will inevitably disappear. In addition, the work also reflects Ursuţa's ongoing fascination with the body, which was stated in one of her interviews: 'I return to the body a lot because it represents an obstacle, vulnerability, decay, shame. It's the thing that is impossible to transcend.'
Ion Grigorescu
Boxing
1977
16mm black-and-white film
2:27 min.
Boxing shows Ion Grigorescu performing 'the boxing of his own shadow' in the intimacy of his private, improvised studio without an audience. This gesture unconventionally develops and continues the question of blending the public with the private, and offers a possible reading of the work. On the one hand, it is a record of the painful experience of turning against oneself and fighting one's own demons (or those imposed on you by state ideology). On the other hand, the moving images pulsate with vitality, vibrancy and rage, portraying boxing as a way of experiencing the joys of life through physical exertion. Through this work, Grigorescu describes isolation as a source of suffering as well as a source of personal strength.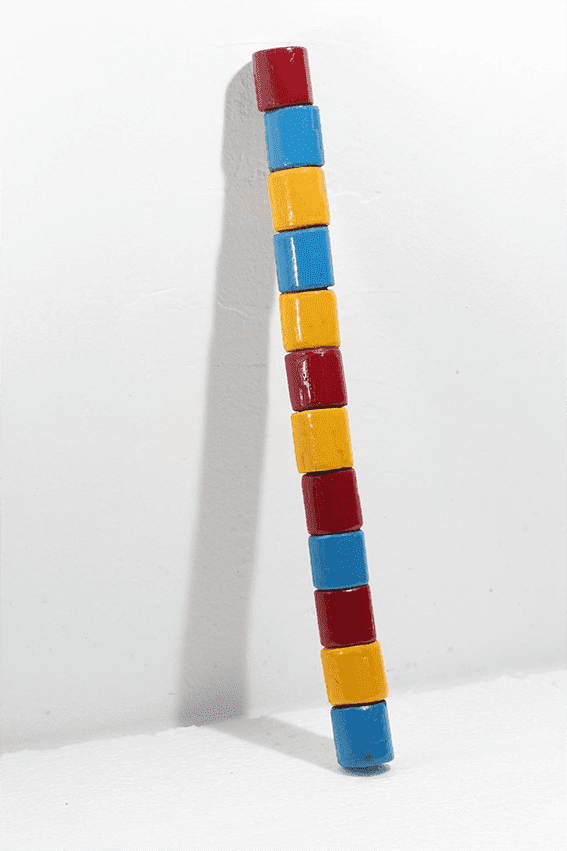 André Cadere
A 00103020
1975
painted wood
28 × 2,5 cm
Conceptual artist André Cadere sought to remove art from the restrictive structures of museums, institutions and galleries. He is best known for his round wooden bars (Barres de bois rond, 1970-78), which he carried on his shoulders into outdoor public spaces and exhibition openings in order to question the relative relationship of art to its physical and institutional environment. Visually unobtrusive – decorated only with a simple pattern of painted lines in a limited palette of colours – the rods served as sculptural and performative works that offered multiple ways in which a person could engage with them.
Skupina Sigma
Works of artists Ştefan Bertalan, Constantin Flondor and Doru Tulcan
Sigma was an experimental group that operated in Timişoara between 1969 and 1980. The active members of the group were Ştefan Bertalan, Constantin Flondor and Doru Tulcan, who were briefly joined by the mathematician Lucian Codreanu, Ion Gaita and Elisha Rusu. The group emphasised collective work and an interdisciplinary approach, using a variety of media (paper, cardboard, wood, aluminium, glass, stiplex, synthetic materials, photography, film), influenced by Bauhaus, Constructivism and new trends in art and architecture. In the dynamics of its evolution, Sigma assimilated the constructivist artistic experiences previously undertaken by Stefan Bertalan and Constantin Flondor with Roman Cotoşman in the 1.1.1 group.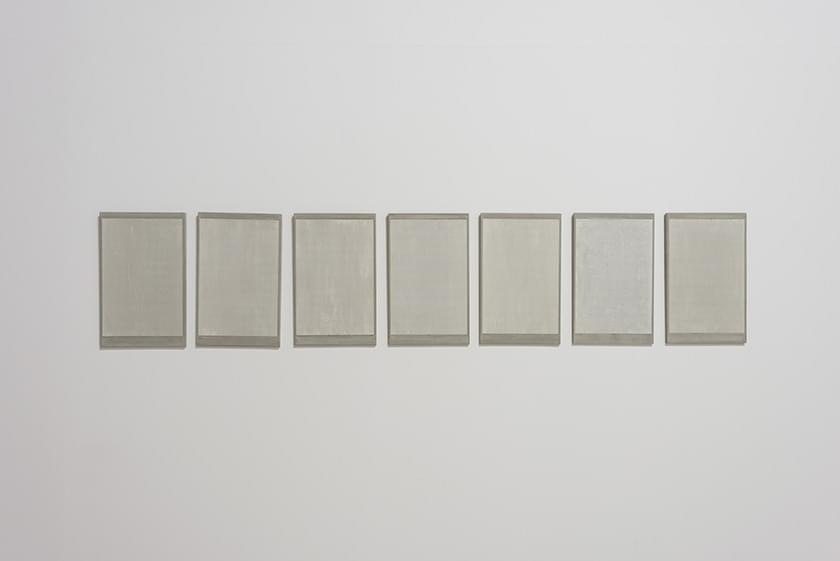 Radu Comșa
Transcription_Grey (After Claude Debussy's Nocturnes)
2014
plates of concrete, offset prints on paper
54 × 33,5 cm
Transcription_Grey (based on Claude Debussy's Nocturnes) reflects the idea of 'extended painting', a concept that helps us to understand Comșa's intentions for his audience. His 'transcriptions' (from one material to another, from one form to another, from one conceptual framework to another) are characterised by geometric figures and primary colours that employ a conceptual approach which hovers between painting and sculpture. His diagrammatic transcriptions are made on slabs of cast concrete or panels of stitched fabric that are informed by his interest in modernist architecture, concrete poetry and atonal music. They function as visual morphemes that combine and release additional and extended meanings.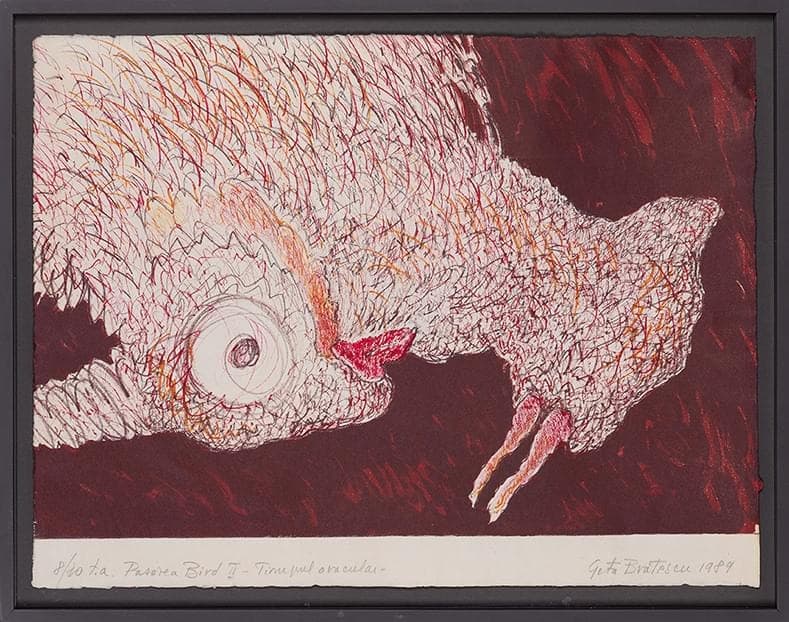 Geta Brătescu
Pasărea Bird
1989–1990
lithographs
43 × 56 cm (each)
An extremely important segment of Geta Brătescu's work focuses on the artist's engagement with interiority, intimacy and self-contemplation, which manifests itself in the works as a multilayered reflection on femininity. The transition into her intimate space is directly seen in the Pasărea BIRD, series of lithographs, in the context of which the bird functions as the alter ego of woman, as well as the alter ego of the artist in general.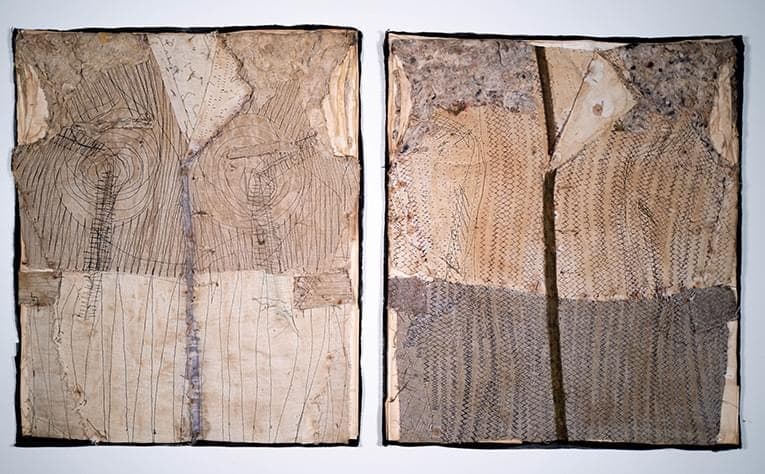 Ana Lupaș
Cămaşa de identitate (Generatia a doua) / Identity Shirt (Second Generation)
1969
various fabrics, thread, pencil, blood, sweat, pins
58,2 × 50,4 cm; 59,2 x 49,6 cm
Ana Lupaș's artistic activity is closely linked to the city of Cluj-Napoca, where she studied and taught, and influenced generations of students who chose a career in art. A very important aspect of her work involves 'elements of ecological paradise', as Anca Arghir calls the rural environment where her installations are placed in order to 're-naturalise' the artistic space. The main thread for understanding Lupaș' art can be found in her series of works through which the idea of serialisation is revoked and replaced by a much more natural, human idea, as in the case of Identity Shirt. This particular work that integrates organic materials has a vitality that accentuates and saturates the space that it inhabits, and encourages the re-imagination of ancient mythologies in a contemporary way.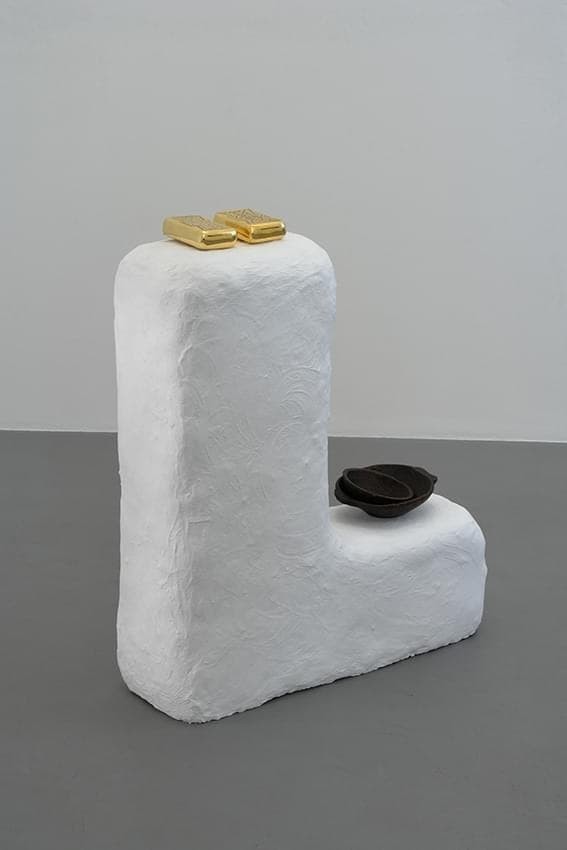 Ioana Nemes
Stove
2009
plaster, metal, bronze, gold-plated, wooden bowls
107 × 90 × 30 cm
The stove in traditional Romanian houses had several functions: people cooked and dried clothes on it, stored cheese over it and slept on it in winter. Its shape in this work is reminiscent of Zaha Hadid's subtractive pieces of furniture: chairs, beds, and other objects made entirely from a single piece of material meticulously designed to fulfil its function. The wooden plates used for the sculpture are original and used as readymade objects, while the two traditional cheese stamps with archaic motifs and signs refer to religion, as cheese was stamped during religious festivals with patterns inlaid in wood. The symbols and patterns have a very clear symbolic role, but very few people today know what they mean. The stove advocates a notion of identity that, instead of remaining static, is something that is torn between the past and the present, tradition and contemporaneity.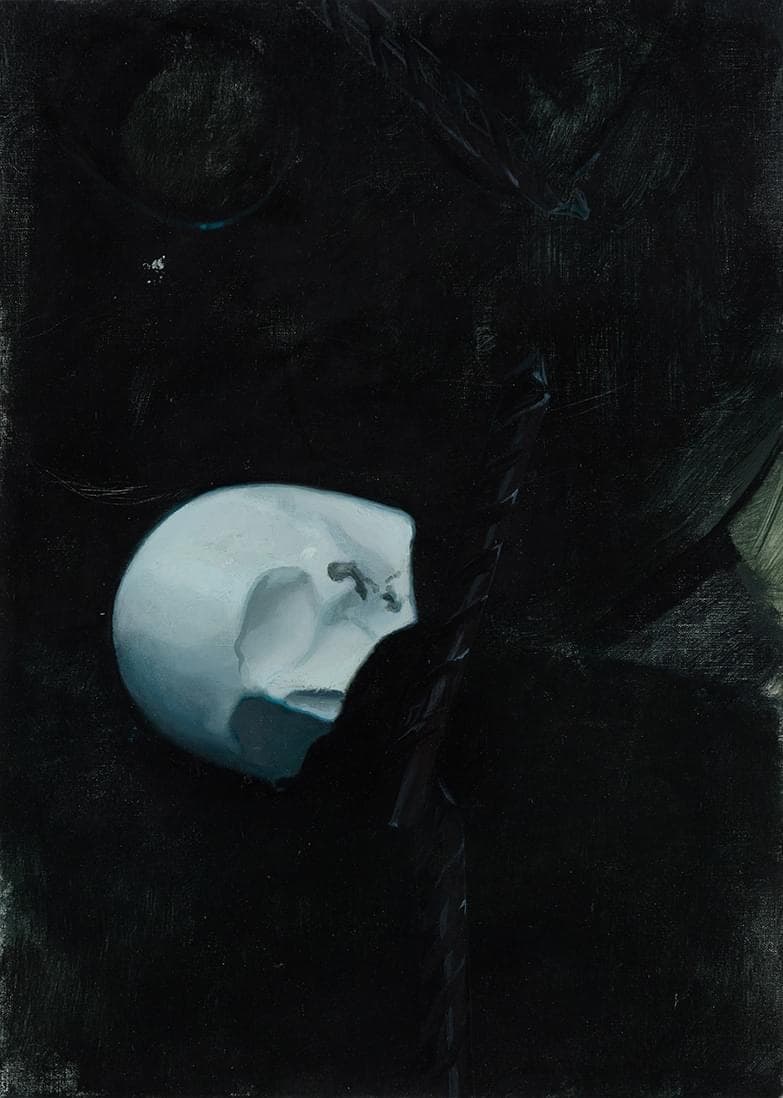 Victor Man
Lumanarul / The Candlemaker
2010–2011
oil on wood, oil on canvas
35 × 25 × 1,5 cm; 60 × 50 × 1,5 cm
Victor Man makes powerful visionary paintings and installations inspired by autobiographies, art history and melancholic narratives. Overlaying references from ancient mythology onto personal and collective memory, he gives the audience many different ways of interpreting his work. The Candlemaker refers to medieval candlemakers, who used to cut the tops off candles in order to light them. As in most of Man's works, the painting alludes to historical motifs, in particular the Greek headless daemon akephalos. Victor Man was one of the main figures in the so-called Cluj School of Artists, who revolutionised contemporary painting.
Victor Brauner
Plante și animale / Plants and Animals
1928
oil on canvas
61,3 × 49,8 cm
The art of Victor Brauner is now most closely associated with Surrealism. During his training at the Bucharest School of Fine Arts, Brauner initially developed an expressionist style, which he later abandoned during his collaboration with various Dadaist and Surrealist art publications. In 1930, Brauner settled in Paris, where he joined the Surrealist group in 1933. The themes of his paintings from this period were rooted in the occult or in private myths. They include strange creatures with huge totemic heads attached to plants or the bodies of animals and people, from which sprout snakes, wings and other forms. What Brauner wanted from these symbols is not meaning but mystery, suggesting that the world of everyday perception hides a more important reality.
Michele Bressan, Bogdan Gîrbovan
R.A.P.I. (ROMANIAN ARCHEOLOGICAL PHOTOGRAPHY INDEX)
2013–2018
colour photograph
52 × 72 cm
The intention of the project R.A.P.I. is to generate new landmarks that establish a connection between natural environments and historical spaces. Their process involves two layers. In the first, a specific landscape is presented as a working perimeter. Then, the objects from the landscape are separated from their original context and photographed in a controlled setup, so that the objective representation of their form becomes almost abstract and hints to other interpretations. Together, the two layers are a series of archeological episodes which use photography as an indexing medium and instrument of study.
Paul Neagu
Hyphen
1975–1980
wood
52 × 80 × 38 cm
Paul Neagu's philosophical approach to his work has pushed the boundaries of abstraction. Using his own body as a medium, his art encourages physical engagement and invites touch. Through his experience of conflict and his desire to express the immense importance of the spirit in the contemporary world, his works demand a visceral response. The hyphen was a major theme in Neagu's work for ten years. For the artist, it represented that special moment of mediation between time and space, between energy and matter.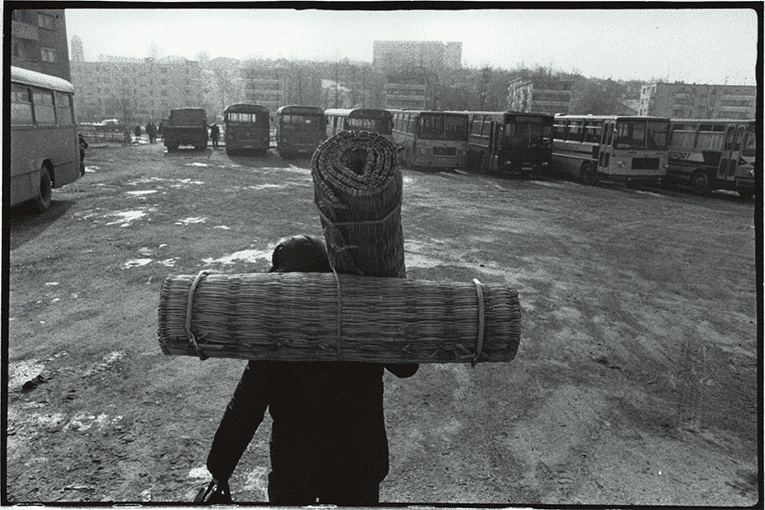 Andrei Pandele
Femeie si autobuze / Women and Buses
1979
black-and-white photographs
11,8 × 17,6 cm
Andrei Pandele's large, mostly black-and-white photographic archive is the most important pictorial testimony of the demolition of historical monuments and quarters in the Romanian capital during the late communist period. His camera captured a period of great change under the communist dictator Nicolae Ceausescu. Alongside the photographs, which are essential for preserving the memory of a disfigured city and a vanished cultural heritage, the collection also includes a series of images that capture aspects of degraded everyday life through the deep crisis of the 1980s. These show both the absurdity of the policies of the Ceaușescu regime and the grotesque mutations in the daily routines of ordinary people that they caused. For some, his stunning photographs are now a painful reminder of a time of destruction.
Max Hermann Maxy, Ilarie Voronca, Ion Călugăru, Filip Brunea-Fox
Integral (No. 2 and 4)
1925
magazine
32 × 23,5 cm
After the dissolution of 75 HP and Punct (Point – an international journal of Constructivist art), Integral, 'a magazine of modern synthesis', was founded as a new initiative of the Romanian and international modernist movement. It was edited by Max Herman Maxy and published by himself together with Ilarie Voronca and Victor Brauner. The issues contained abstract linocuts, reproductions of Constructivist collages, scenography and abstract sculpture. Given its renowned 'international' character, Integral had two editorial offices: one in Bucharest, the other in Paris, directed by Benjamin Fondane and Hans Mattis-Teutsch. Between March 1925 and April 1928 fifteen issues of the magazine were published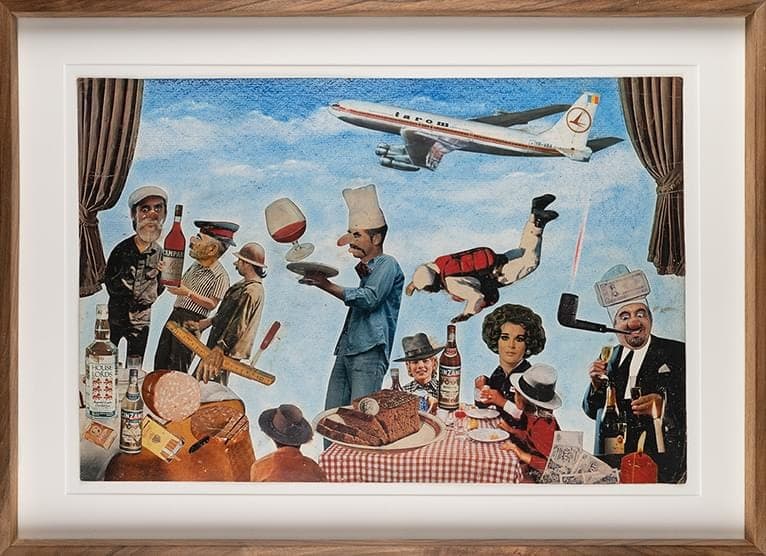 Ion Bârlădeanu
Untitled
circa 1980
collage
28,5 × 44 cm
Before his unique collages were discovered in 2009 in a makeshift outdoor studio in a backstreet in Bucharest, Ion Bârlădeanu had spent most of the earlier years of his life on the fringes of society, depending on people's rubbish to survive and spending cold nights behind garbage bins. In his spare time, Bârlădeanu produced a large number of artworks that can be described as a mixture of Pop Art, Surrealism and Dadaism. As a social commentary, Bârlădeanu's anti-communist and anti-capitalist assemblages reveal a wicked sense of humour and a sharp political wit. The brilliance lies in their visual flair, where impossible eye-lines and single-point perspectives easily coincide with the pornographic and the surreal.
The Dada Movement and Publishing
Romanian poet Tristan Tzara and artist Marcel Iancu participated in events at the Cabaret Voltaire in Zürich that launched the Dadaist movement in 1916, which was also a crucial moment for the development of the Romanian avant-garde. Through experimental art, poetry, prose and design, the Romanian avant-gardists bridged the local, geographically bound Bucharest, with the international, as they sought to establish themselves as equals to their Western European counterparts. Dada introduced new media of expression as a way of challenging the established order in society and art, with books and magazines playing one of the most important roles. The publishing activity of the Romanian avant-garde and their collaboration with artists was crucial in this segment of the Dada movement and became a frontrunner of the international Dadaist and Constructivist books and magazines published in cities across Europe such as Berlin, Paris, Zagreb and Budapest.
Dan Perjovschi
Peace
2022–2023
site-specific performance, Kunsthalle Praha, 2023
drawing on window glass
courtesy of the artist
Peace is a drawing made and sold for the benefit of Ukrainian refugees. The owner buys the right to redraw the drawing on the walls or windows of their home. The permission to redraw the work is paid for in the form of a direct donation to an association dealing with refugees (prioritising children and educational programmes). The owner will receive an original certificate numbered and signed by the artist, as well as instructions for drawing the work.
The drawing was shown in several independent art spaces in Romania and sold twelve times from an edition of 20. In the framework of this exhibition, number 13 and 14 from the same edition can be purchased.
Ciprian Mureșan
Echoes, 2023
cotton paper, resin undercoat
courtesy of the artist
After 1989, former communist countries found themselves with an unwanted heritage: socialist realism, and more precisely socialist realist sculpture, in which the figure of the proletarian was central. Trying to put himself in the shoes of the artists of that time, Mureșan made sculptures in the socialist realist style. The exteriors of these sculptures are made from paper, an extremely perishable material. In the sculpture commissioned by Kunsthalle Praha, Mureșan has created a miniature camera obscura in the head, the eye being its aperture. Photosensitive film or paper can be thus inserted inside the head, allowing it to capture images. Mureșan wanted to achieve an inversion of the viewing subject, from the work of art to the public. The receiver-statue becomes a fragile witness of the context with its essential changes over time.
Alex Mirutziu
Intervention Is Enough Evidence. Finally.
2023
performance
courtesy of the artist
Alex Mirutziu was invited to create a performance piece that would reflect on the Ovidiu Șandor Collection and contextualise it in a new way. Mirutziu describes his medium as 'technologies of ephemeral reciprocity', which creates new scenarios for exchange and interaction between those involved. In his own words, he describes the intricate details of his new, site-specific piece below: 'Accepting the limitations of our ability to establish facts, this performance investigates the possibilities for acting on them subjectively, with intervention serving as the primary operation. The performers set about inventing strategic practices to retain or improve their uniqueness, switching between voice recordings, words, and frozen images of past actions, catering to the 'instinct for business' in an attempt to align aims with outcomes. As the performers interact, or refuse to do so, a unique temporality is created by withholding beliefs and real emotions. A maze of introspections frequently collides with a terrifying incapacity to de-intervene, de-act, or de-realize, jeopardizing the integrity of their own identities.'
The performance uses fragments from the book The Doll by Lukáš Tomin with permission of the copyright owners Marek Tomin and Howard Sidenberg (Twisted Spoon Press), and from the poem Dog Is a Way of Thinking by Magdalena Zurawski.
Magdaleny Zurawski.