Summer School for Teachers (in CZE)
23. August 2023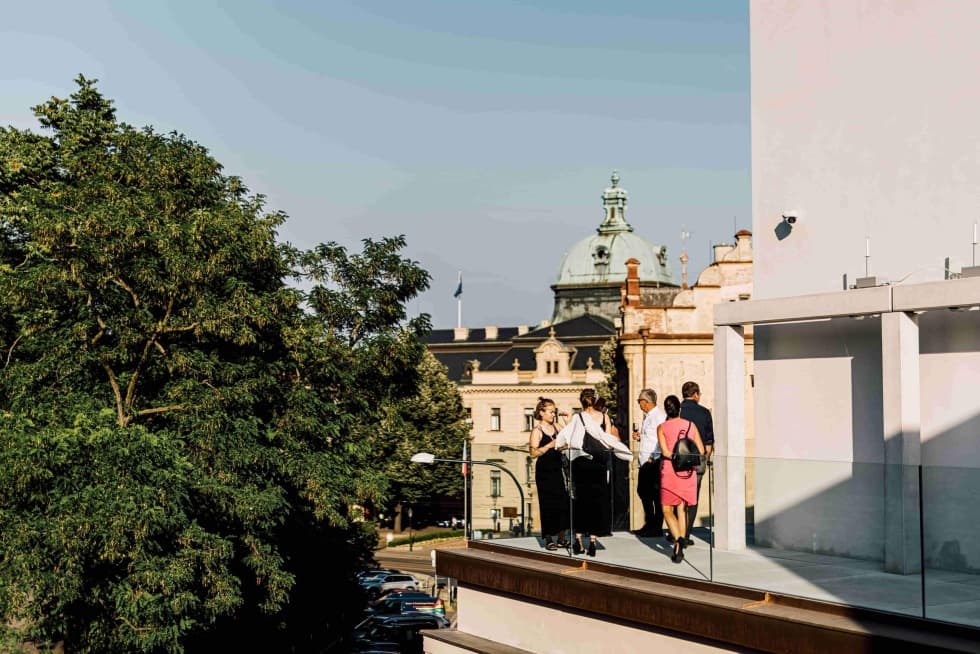 This course will be held completely in Czech.
Summer is here, and with it comes the second edition of the Summer School for Teachers. Taking place from August 23rd to 25th 2023 at Kunsthalle Prague (not only). It promises an extraordinary experience. Explore contemporary art through your own creativity and interdisciplinary connections. Prepare for encounters with leading art theorists, workshops led by photographers, sculptors, and architects. We extend a warm invitation to educators of all levels! Join us and unlock the boundless inspiration that awaits at the intersection of art and education.
What will you experience?
Together, we will explore the evolution of photography in the second half of the 20th century within the exhibition "Bohemia: History of an Idea, 1950-2000." Under the guidance of contemporary photographers, we will create our own artworks. Through the projects "Building Sculptures and Girl with a Dove" by Krištof Kintera, we will focus on the relationship between sculpture and architecture, crafting our own concrete objects. We will also witness the unique performance by Alex Mirutziu. Finally, we will delve into various approaches to collecting and exhibiting art, examining Ovidiu Sandor's collection as well as selected works from Kunsthalle Prague.
Who will you meet?
Among our esteemed guests are: Christelle Havranek (Chief curator of Kunsthalle Prague), Barbora Ropková (Curator of the Kunsthalle Prague collection), Štepánka Stein (Photographer and Theorist), Radomíra Sedláková (Architecture Historian), Radek Mužík (Sculptor), Barbora Škaloudová and Martina Freitagová (Education Department of Kunsthalle Prague).
When and where will the school take place?
From Wednesday August 23rd to Friday August 25th 2023.

We begin on Wednesday at 10:00 AM and conclude on Friday at 1:00 PM. The venue is Kunsthalle Prague and its surroundings.

Who is the school for? For teachers, educators of all levels, as well as gallery instructors.
How much does the course cost?
2,500 CZK - the price includes lectures and workshops, exhibition admission, light refreshments, and a final lunch. The price is discounted thanks to the support of the BPD Foundation.


We also offer 3 scholarship spots for a total course fee of 500 CZK. If interested, please send a motivational letter to learning@kunsthallepraha.org by June 30th, expressing how you would utilize the knowledge gained from the summer school. By July 14th, you will receive a notification.