RESIDENCY PROGRAMS AND COLLABORATIONS OF KUNSTHALLE PRAHA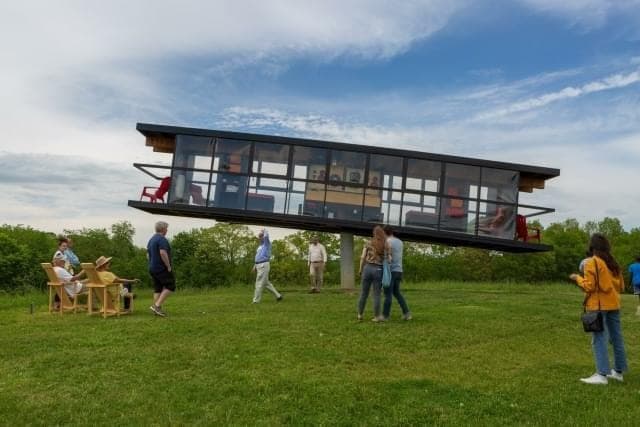 While we get ready to open our own exhibition space at Kunsthalle Praha in May 2021 and intensively prepare the upcoming program, we're also acting as a platform for networking and artistic and cultural development, and also as partners and supporters of various cultural projects. We are engaged in several programs that enable domestic and foreign artists to attend residencies – that is, stays abroad, giving them the opportunity to reside abroad for some time and create under the patronage of a selected organization. The conditions and formats of individual residencies vary and we're always forming new collaborations to help as many artists as possible to experience working abroad. At the moment, we are actively involved in the following projects:
New Opportunity in the USA
Recently, a fantastic new opportunity for artists from Poland, Slovakia, Hungary and the Czech Republic has come up under the official title Art Omi and Kunsthalle Praha Fellowship for Visegrad Region. Art Omi is an American philanthropic initiative that each year hosts thirty artists from around the world. In past years, the only Czechs to have participated are Kristýna and Marek Milde. The selected artists will spend a month at the Foundation's country estate in Columbia County, a two-hour train ride from New York City. The aim of Art Omi is to bring together a variety of artistic personalities who experiment, collaborate and share ideas during the residential program. At the end of the stay there is a presentation of the newly created works, to which established art critics are usually invited. Often, this results in prestigious awards and increased visibility of the participating artists' work. The residency operates on the principle of so-called "fellowships" with foreign institutions, which now include Kunsthalle Praha. The next residency will take place at the end of spring and start of summer 2020. Applicants from the Visegrad region will be selected by an expert jury Art Omi, which includes Charlotta Kotík, together with Kunsthalle Praha. You can apply for the open call to the Art Omi and Kunsthalle Praha Fellowship for Visegrad Region until November 30, 2019. You will need a resume, a brief artist's statement, eight pictures or three video clips and two references to apply.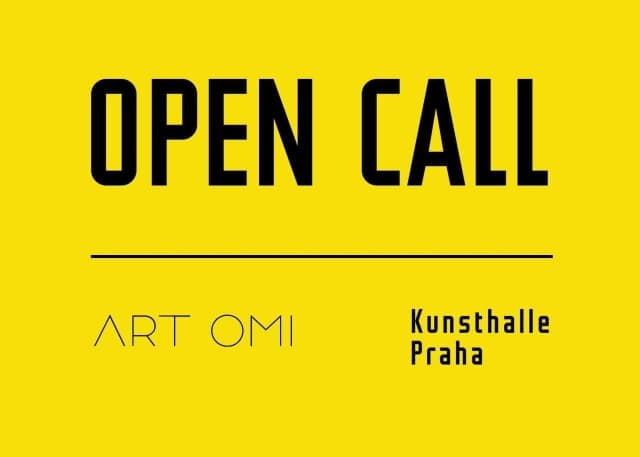 London's Delfina Foundation
Together with the Czech Center in London and the Arts and Theater Institute, Kunsthalle Praha is supporting the residency for Czech curators and artists at the Delfina Foundation in London. The work created as part of this residency can then be developed into a larger exhibition project at Kunsthalle Praha. At the beginning of this year, artist Radek Brousil and curator Tereza Záchová went to England, and in autumn, Delfina hosted the Slovak artist, curator and teacher Jaro Varga. The Foundation announces a new thematic program every year, with this year's program focusing on the interconnection of art, science and technology. At their building, which is located near Buckingham Palace, residents can explore the boundaries of their own work, concentrate on artistic research and, finally, establish relationships with the local art community and individuals. The residency lasts six weeks, and thanks to Kunsthalle Praha the number of Czech and Slovak residents has been increased to three. The open call for 2020 will be announced at the end of this year. If you would like to participate, follow our website, where we post full details and requirements.
We're Welcoming Ukraine Resident Artists in Prague
We've also recently established a partnership with the Ukrainian Institute, a cultural initiative of the new Ukrainian government. The Exter project sends Ukrainian artists to the cultural centers of Central and Western Europe. Kunsthalle Praha has become the liaison for the Czech Republic. We choose one resident annually from the offered shortlist, who will develop his or her own project during a one-month stay in the Czech Republic. The first participant is graphic designer Aliona Solomadina, whose project City of Forms covers the city's graphic language, public space experience and urban context. In addition, Alion will be given the opportunity to participate in the activities of Kunsthalle Praha through the Facade Project, creating another space for intercultural artistic exchange. Although at Kunsthalle Praha we are more active supporters of Czech artists abroad, we nevertheless attach great importance to enriching the local art scene as well. That is why we were approached by the Exter project, which on the other hand accepts foreign residents in Prague.
Kunsthalle Praha is a newly emerging space for art and culture in Prague´s historical centre. It will offer visitors a wide range of exhibitions and educational projects, cultural events and social activities. Kunsthalle Praha´s mission is to contribute to a deeper understanding of Czech and international art of the 20th and 21st centuries and to communicate this with a dynamic, contemporary programme to the broadest possible public.