We are opening in a year!
Today starts the year-long countdown until the opening of our new cultural space, on the magical date of 2/22/2022. How exciting!

And there are great events planned for 2021, too! Follow our journey on Instagram & Facebook and watch the current adventures from the construction site and other series on our Vimeo channel.
The Making of Kunsthalle Praha
Krištof Kintera releases a new book!
A discharged battery as a memento of our civilization? Krištof Kintera's new book called Out of Power Tower is a remarkable document of the making of a monumental tower made of discharged batteries, which Kintera created for the Czech section at XXII. Triennial in Milan in 2019. The book is published by Kunsthalle Praha and the Museum of Decorative Arts in Prague.
You can purchase the book in Czech language on ArtMap's bookstore e-shop.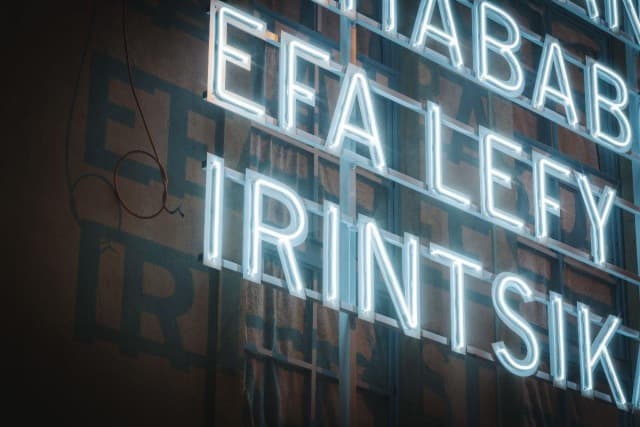 Read a full word by the Chief Curator of Kunsthalle Praha, Christelle Havranek, about the new Facade Project, Joël's work and about questioning the practice of Mail Art. Read more
Joël Andrianomearisoa (*1977)
Lives and works between Paris and Antananarivo, the capital of Madagascar. He is turns visual artist, scenographer, poet. As a "total artist" he is sensitive to the essence of space. It is only after gaining a physical awareness of a city, its architecture, its energy, that he can begin to elaborate a story. Within the given spaces and times, he then imagines sequences and itineraries and fills them with artworks, movements, texts, and, most importantly, emotions. As a multicultural artist he assembles, combines and interprets textures and texts from here and elsewhere, creating a protean, polyphonic work. Read more
Interview with Aaron Cezar
Aaron, you are quite ubiquitous in the contemporary art world, and have worked in an astonishing number of roles – what brings them all together?
Within the contemporary art world, I have taken on different roles with many organisations through partnerships or appointments: 2012 London Olympics, Marrakech Biennale, Venice Biennale of Art, Caribbean Art Initiative, Art Dubai, and many others. What brings all of this together? My dedication to building communities and developing the eco-system for artists and audiences. This commitment is most evident in my work at the Delfina Foundation. Read more
Art in Isolation: František Skála
The inner freedom of František Skála
"Any lie in art is counterproductive," says artist František Skála at the beginning of the first episode of the new documentary series Art in Isolation (with English subtitles), in which the stories of artists during the period of totalitarianism are recounted by Kunsthalle Praha in collaboration with Memory of Nations. Read more
Kunsthalle Praha is a newly emerging space for art and culture in Prague´s historical centre. It will offer visitors a wide range of exhibitions and educational projects, cultural events and social activities. Kunsthalle Praha´s mission is to contribute to a deeper understanding of Czech and international art of the 20th and 21st centuries and to communicate this with a dynamic, contemporary programme to the broadest possible public.